Tastes better.
Made better.
Johnsonville is the number-one brand of sausage in America, offering cooks and grillers more than 70 different types of sausage. Our product line includes: bratwurst, Italian sausage, fresh and fully cooked breakfast links and patties, chicken sausage, smoked sausage and summer sausage.
Explore Our Products
From timeless classics to new flavors, there's something for everyone to share.
Breakfast Links & Patties
Fully Cooked Sausage Links
explore our recipes
Welcome to our collection of  recipes perfect for preparing in your kitchen.
20 minutes

4 portions
Adobo Glazed Sausage Kebabs
25 minutes

4 portions
Grilled Sausage with Cheddar Torta
15 minutes

4 portions
Scrambled Eggs Mexican Style with Sausages
20 minutes

4 portions
Summer Sausage Cracker with Mango Salsa
15 minutes

4 portions
Contact Us
Questions? We're here to help.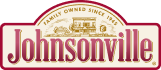 PO BOX 906 sheboygan falls, wi 53085
call us 1-888-556-brat
© 2022 Johnsonville, LLC. All Rights Reserved. | Site By THIEL Brand Design